As a knit designer, I work from "home". Why is home in air quotes? Well because I pretty much work wherever I can. Yesterday I swatched a new lace pattern in the minivan while waiting for the boys to get out of a football meeting. And tonight while they are at Scouts I will be heading to Starbucks to finish writing a pattern. But when I'm really at home I have two basic modes of knit design work – computer work and actual knitting work. When I'm doing knitting work this is my satellite office:

I have the comfiest of comfy recliners. I will be sad when it dies it's final death and we have to replace it – we've had it for ages. It's actually part of a couch and the center piece folds down to serve as a cup and remote holder. The cup nook also corrals yarn nicely. And who am I kidding here – the center section hardly ever gets used as a place to sit!
You can see in my knitting nook a selection of various crucial knitting tools. My yarn-it to help keep unruly balls under control (*snicker*), a mini arc notebook for important design notes that I will promptly forgot I've taken, a handful of stitch dictionaries in the side table nook, scissors, my Macbook, new yarns that I'm waiting for them to tell me what they want to be when they grow up, and my Ott Lites.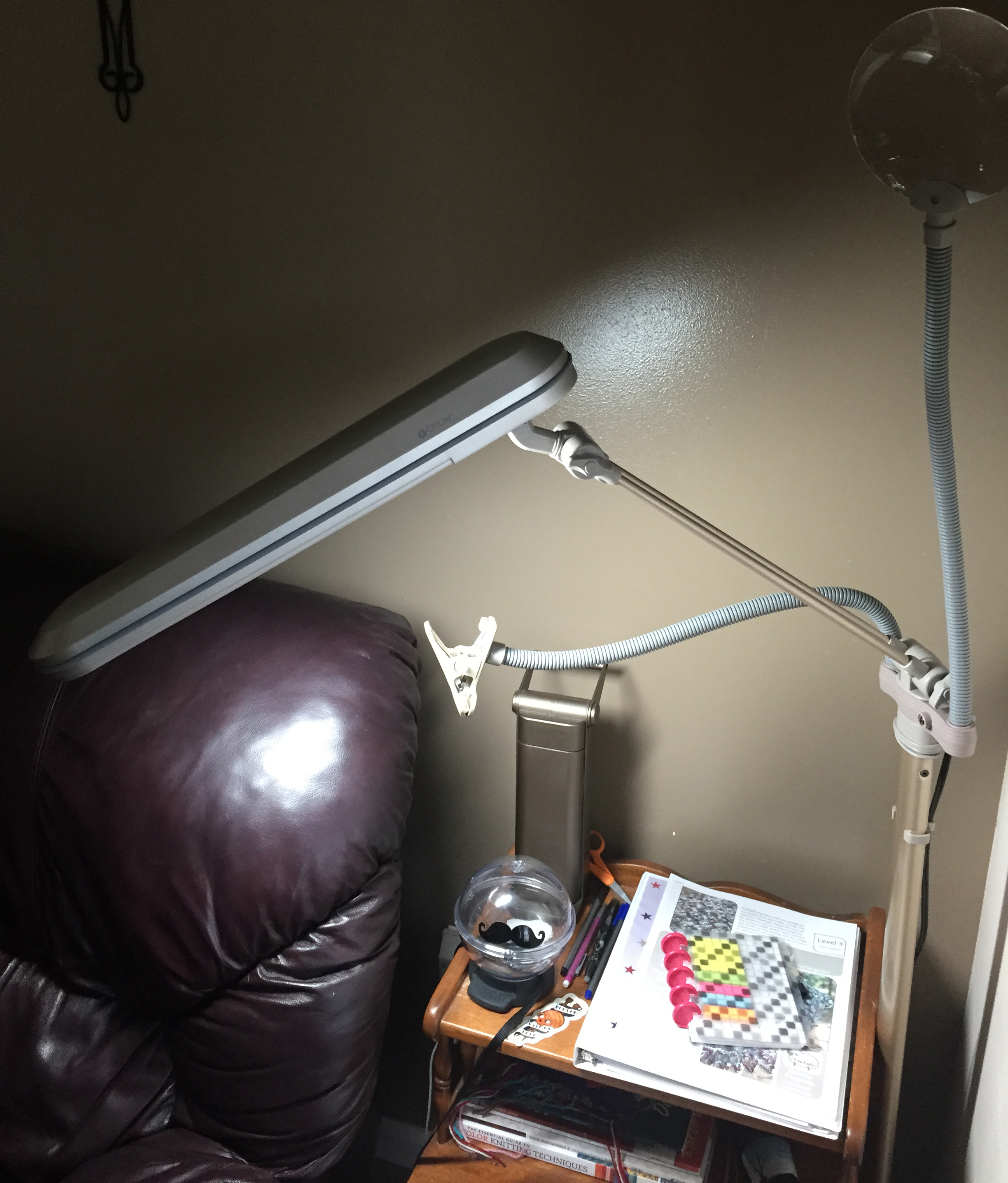 I could not live without my Ott Lites. The little flip up one in the back I've had for years. Our living room is short on artificial light in the evenings (I really need to remedy that) so without my mini Ott Lite I would never be able to see what I was knitting – especially with darker yarns.
But now I have new, bigger, more awesome Ott Lite. A couple of months ago I got to attend the Marly Bird Designer Dinner at TNNA. And the folks at Ott Lite were kind enough to offer up this beauty as a prize – which I won! They shipped it out to me and I took my sweet time setting it up, but am I glad I did! It has a magnifier attachment and a handy dandy clip to hold pattern charts for me. Plus the light portion is on a completely adjustable stand so I can point the light anywhere I need to! I recently finished a gorgeous shawl in some rich deep purple Sweet Georgia (seriously this new yarn of hers is super delicious) and this light was my best friend while I was knitting dark purple lace in the wee small hours of the night watching Cedar Cove on the Hallmark channel. Don't judge. You know you have a cheesy guilty pleasure show too. So…. where in your house do you knit? And what do you watch when you knit it?