So what do you get when you buy a PicnicKnits pattern? Most of my customers buy my patterns online. So what you get is a PDF that you can either use on your tablet or computer (or phone!). You can also print that PDF and carry it around in your knitting bag. I'm in the process of updating all of my PDFs to my new layout, so I will show you what a current pattern looks like.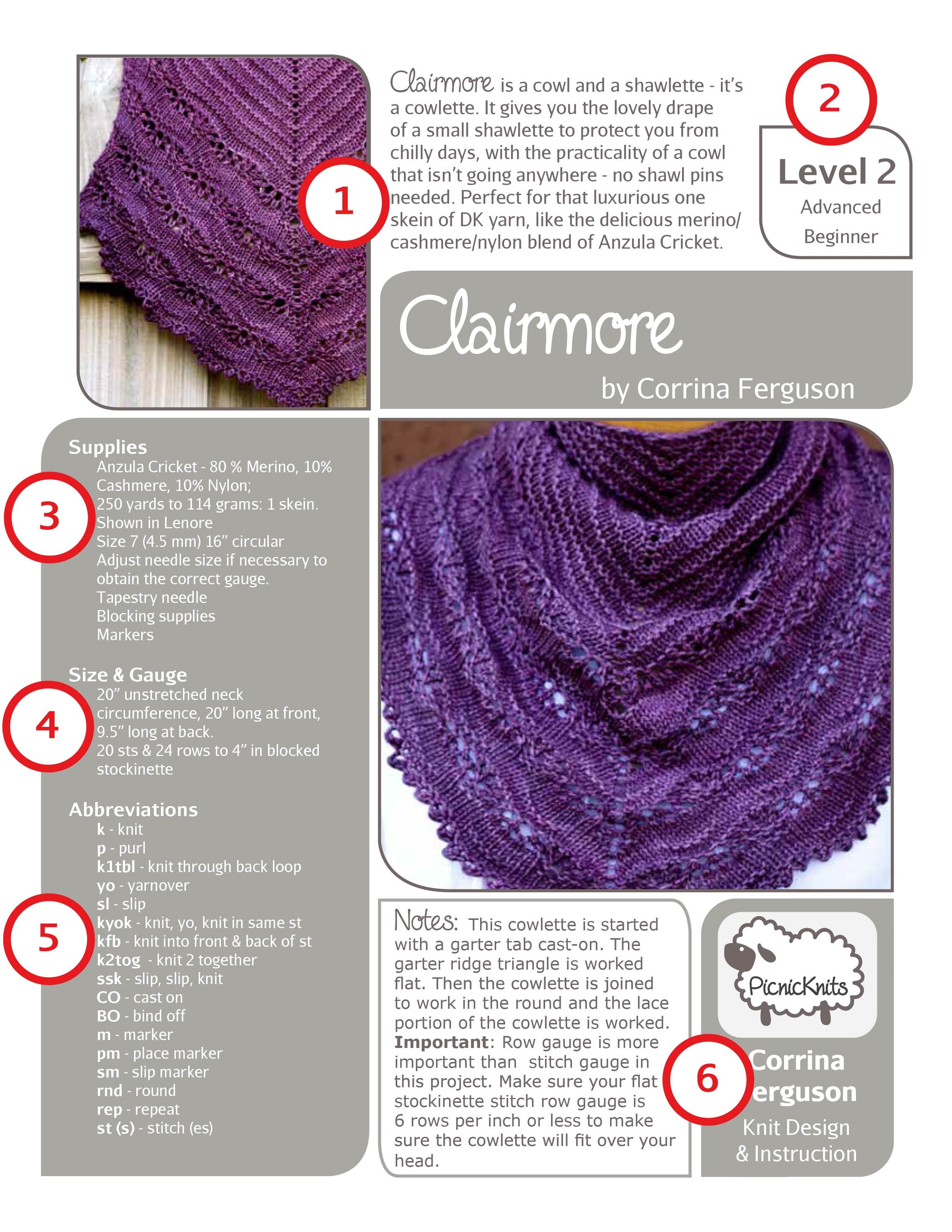 Pictures and Description – this gives you an idea of what the pattern will look like when finished. However, it's difficult to include enough pictures to show every angle, so it's good to head over to Ravelry and check out all the details.
Skill Level – This is really subjective. I consider the vast majority of my projects to be advanced beginner projects. Because when it comes down to it knitting is pretty basic – you knit, you purl. And the rest of it is just combining or working those stitches in different ways. If something is marked Intermediate in my design world it means there are more complicated stitch patterns to keep track of.
Supplies – Everything you need to complete this project. Except for scissors. You don't always need scissors but for some reason that is not commonly listed on knitting patterns. Maybe because you can break so many yarns, I don't know. Now I feel like I should add scissors (if desired)!!
Sizes & Gauge – For my shawls and such this isn't as important. But if you want something to fit, you have to get gauge. Or you have to know enough about knitting to make the pattern adjustments necessary to make your gauge work for your body. And if you can do that you ain't no beginner! But seriously, swatching is your friend. As is blocking the swatch if applicable. Needle sizes are a suggestion, not a rule. Gauge trumps needle size every time.
Abbreviations – This tells you all the abbreviations and stitches that will be used in a pattern. For example in the Clairmore Cowlette there is an abbreviation there for kyok – which means knit, yarnover, and knit again in the same stitch. So if you are not familiar with something you can look it up online to get clarification.
Notes – This tells you if there are any unusual construction techniques, or other special things you need to know about this project. Again for the Clairmore Cowlette it tells you that your row gauge is way more important than your stitch gauge. This is unusual and important. Because if your row gauge is too tight the cowlette won't fit over your head. Pay attention to the notes.
The rest of the pages of the pattern are the actual pattern instructions. Depending on what sort of pattern it is there will be written or charted instructions. In some cases there are both. On Ravelry the pattern page will always tell you what type of instructions are provided for any given pattern.
But what if you want a pre-printed paper pattern? Well to get that you need to talk to your local yarn store! My patterns are available through Stitch Sprouts for wholesale to your local store. Just tell them you want to see my patterns in their store. Also Ravelry is a great resource for help on PicnicKnits or any patterns! I have a group on Ravelry where you can ask questions or search for help on patterns. I'd love to see you over there!